intrigue-core v0.8 releases: Discover your attack surface
intrigue-core
Intrigue-core is a framework for external attack surface discovery and automated OSINT. There are a number of use cases:
Application and Infrastructure (Asset) Discovery
Security Research and Vulnerability Discovery
Malware Campaign Research & Indicator Enrichment
Exploratory OSINT Research
Intrigue makes it easy to discover information about organizations connected to the Internet. Intrigue utilizes flexible and scriptable tasks to gather OSINT and create new entities. Each discovered entity can be used to discover more information, either automatically or manually, allowing you to quickly gather many relevant data points.
The following features are supported:
Friendly web-based user interface

Configure settings and api keys for individual tasks
Run tasks, and gather/download results
Iterate on findings with both manual and automated discovery
Search, manage and download results
Visualize results with built-in graphing

Powerful Command Line Interface

Create entities, execute tasks and gather results

API-first design

Create and delete entities via the API
Execute tasks via the API
Pull results from the API
Provided Ruby SDK & Client

Over 60 built-in tasks

Search databases such as:

Built-in strategies for automation
Built-in OSINT discovery-focused ontology
Result Handlers 

Push task, scan or project results to…

Local files: CSV, JSON
Amazon S3
ElasticSearch
Couchbase
Webhooks

Automated Entity Enrichment

Build simple workflows such as…

Enter a URI and have it automatically fingerprinted and a screenshot taken
Enter a Domain and it will be looked up, with all records stored
Enter an FTP server and it'll be enumerated

Automated correlation of related entities
Changelog v0.8
NEW FEATURES
In this (yet again) truly MASSIVE release, you'll find the following key features:
In-App Workflows powered by user-definable YAML files
Improved Vulnerability Discovery Capabilities
Asynchronous DNS and HTTP bringing new levels of speed
30 new integrations and discovery capabilities
26 new vulnerability and misconfiguration checks
VMWare and VirtualBox images in adidition to the existing Docker image
Get it now at https://core.intrigue.io or read on for the goods.
Announcing .… Workflows
The most immediately distinctive feature of this release is something we've wanted to add support for, for many years, Automated Workflows. Workflows fully replace the now-legacy concept of "machines" in the platform with a simpler, friendlier YAML syntax but largely the same functionality. Meaning, they're recursive by default, and when a new entity is created in a project with a workflow is attached to it, it will automatically schedule and run the relevant tasks that the workflow specifies. This, in combination with UX support for workflows makes it easier than ever to discover the attack surface of organizations; and further, for users to build out custom automation on top of the raw capabilities and tasks of Intrigue Core. Check it out:
You'll notice now, after creating a new project, that you're directed to the workflows screen and encouraged to enter as many "hints" as you can, and Core takes what you offer and builds upon it using the selected workflow: And if you like the old way of doing it (where a workflow is started on each new entity that's discovered from a first import or task, you can do that too.
Also a bit of new shiny on the graphing capabilities, now supporting WebGL and highlighting entities worthy of further investigation: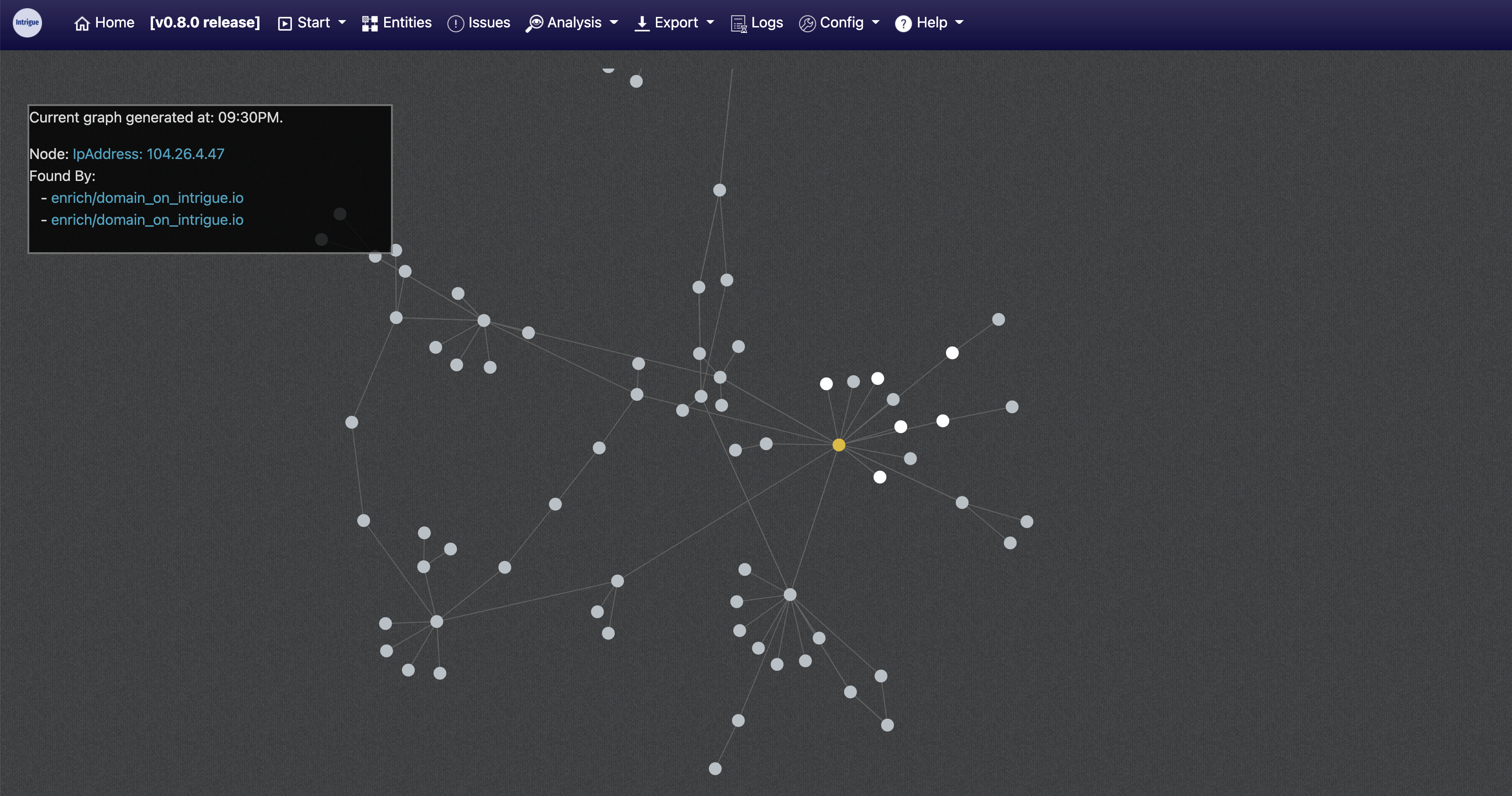 While there's much to discuss about the other new features and capabilities, we'll leave the deep dive for a follow-on post. In the meantime, check out some of the new capabilities below.
More…
Copyright (c) 2019, Pentestify, LLC All rights reserved.