iSeePassword Dr.PDF: A Simple Yet Effective Way to Crack PDF Password
Securing important PDFs with a password is a great way to ensure your data and privacy remains invulnerable. However, there are times when a password-protected PDF document becomes a cause of annoyance. In fact, if you lose or forget the password, you cannot access your data, which is pretty frustrating.
If you do some googling, you should find many PDF password recovery tools, but keep in mind that a lot of them are scams to take your money. Falling for one of these guys, you might end up losing the use of your PDF file and your important notes fall into the wrong hands. 
Using a third-party service is not ideal for all users out there. However, if you have exhausted all the possibilities, but nothing works, this could be an option. We have tried iSeePassword Dr.PDF and it worked like a charm. iSeePassword successfully cracked open our PDF files with no problems and no hidden fees, so we feel confident in recommending it. 
Why Not Using Command Line-based PDF Cracking Tool
Cracking PDF password is not a new topic and dozens of tools are available for download. However, most of them are command line based, such as Hashcat, PDFCrack, or John the Ripper. One of the biggest disadvantages for command line tools is that you have to extract the hash value from PDF first. This is not something we recommend to you as it is boring and sometimes does not work for everybody. 
Cons of Command Line PDF Password Cracker:
Not able to extract hash from PDF file.

Does not support 256-bit PDF encryption.

Complex and risky command line parameters.

Time consuming process.
But this is not the case for iSeePassword Dr.PDF, all of the necessary steps are done under a simple user interface.
So, What is iSeePassword Dr. PDF and How Does it Work?
Dr.PDF stands out as one of the most effective ways to crack or recover PDF passwords. However, it is not limited to recovering your PDF password as it is a bigger deal than you think. In fact, the tool also includes the ability to remove PDF copying, editing, printing restrictions you impose on your PDF file. 
Unlike other PDF cracking tools, Dr.PDF cracks open your PDF password using 4 configurable attacks, which guarantees to get the job done. These attacks include Brute-force Attack, Brute-force with Mask Attack and Dictionary Attack. While Brute-force attack scans all possible passwords to open your PDF, the other two search passwords based on your custom settings. 
More features include:
Multi-core CPU Processing

: Dr.PDF takes advantage of your computer's high-speed CPU to boost the password recovery process without compromising the overall performance.

GPU Acceleration

: Dr.PDF includes a support for the GPU Acceleration feature that allows for 10x faster cracking speed. 

Batch Remove

: The tool allows you to import multiple PDF files and remove the passwords at the same time

Continue Last Searching History

: The tool offers an automatic saving feature that ensures your last searching history remains available. 

Cross-platform support

: It works on latest Windows 10 and macOS Big Sur.
How to Crack PDF Password with Dr.PDF
The process is so simple and completely safe. You can follow our step below. 
Step 1: Download iSeePassword Dr.PDF from its official page The tool now offers a free trial that lets you enjoy its full premium features without any hidden fees. 
Step 2: Once the download is complete, install it on your computer. To do this, just follow the on-screen prompts.
Step 3: From its main user interface, you will be presented with two cracking options: Recover Open Password from PDF and Remove Owner Password from PDF.
Step 4: Select Recover Open Password from PDF and click the Add File button to import your password-protected PDF file. 
Step 5: Now, select the Attack type from the list. If you have no clues about your old password, go for Brute Force attack, but this may take longer than usual. Once you are done, hit the Start button.  For Mask attach, you can set a number of parameters to accelerate the password cracking process.
Step 6: The process should begin. As mentioned above, if you have a computer with multi-core CPU, it may take seconds. Once it is done, you can use the newly-recovered password to access your PDF file.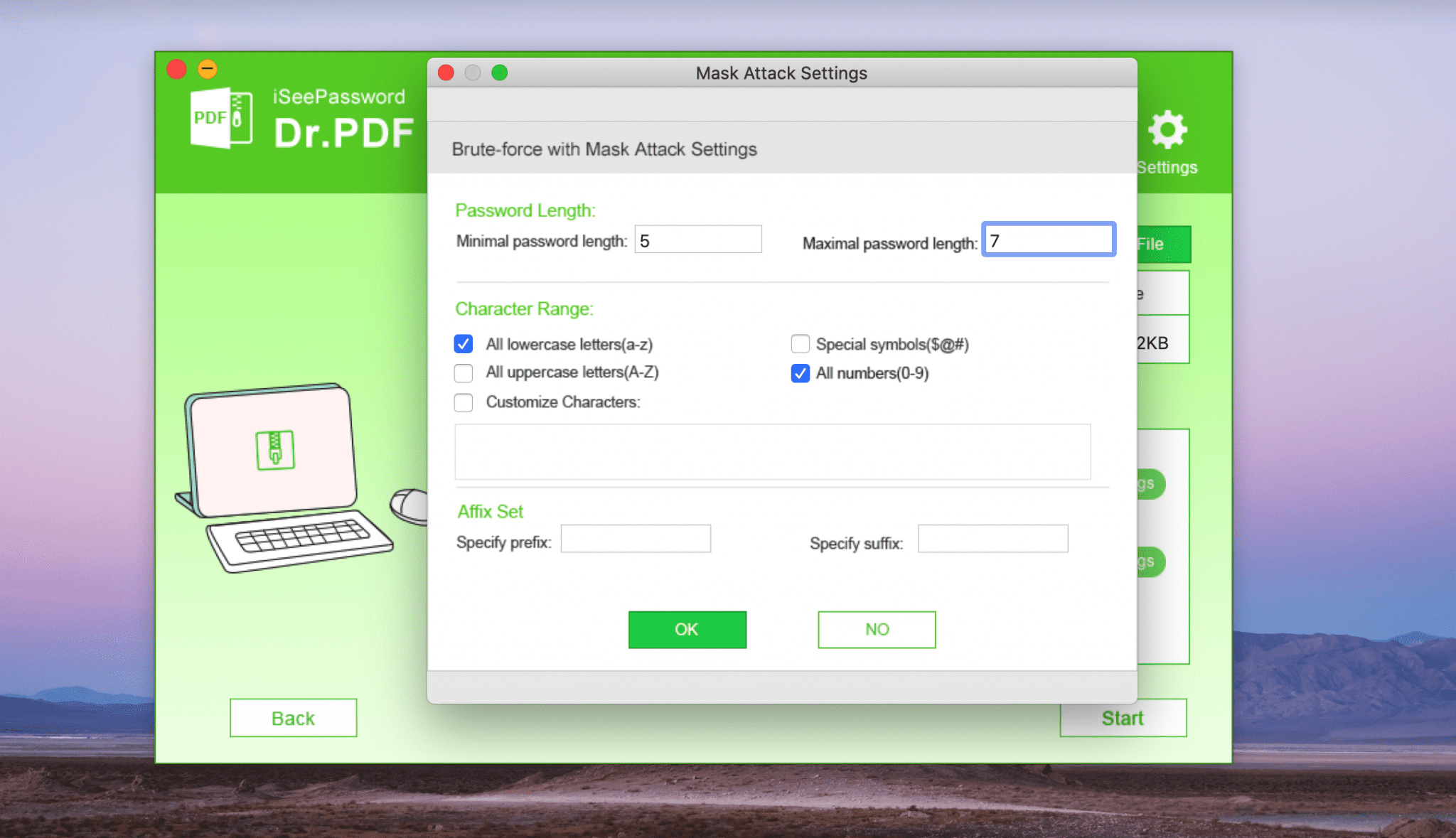 Note: If you forget the owner password of the PDF file, you are restricted to viewing its content. In this case, you need to remove the owner password so that you can edit the file. To do this, select tRemove Owner Password from PDF option from the main menu, then select your file. After that, select where you want to save your PDF file and proceed with hitting the Start button. 
The Bottom Line
Accessing a password-protected PDF file has become much easier thanks to Dr. PDF. It's reliable, fast, and won't damage your data. The coolest part is that it supports all types of PDF password and uses the safe method to crack open your file. If you are now in the market for a trusted PDF cracking tool, iSeePassword Dr.PDF is our number one recommendation.