spring4shell scan: fully automated, reliable, and accurate scanner for finding Spring Cloud RCE vulnerabilities
spring4shell scan
A fully automated, reliable, and accurate scanner for finding Spring4Shell and Spring Cloud RCE vulnerabilities.
The Spring4Shell RCE is a critical vulnerability that FullHunt has been researching since it was released. We worked with our customers in scanning their environments for Spring4Shell and Spring Cloud RCE vulnerabilities.
We're open-sourcing an open detection scanning tool for discovering Spring4Shell (CVE-2022-22965) and Spring Cloud RCE (CVE-2022-22963) vulnerabilities. This shall be used by security teams to scan their infrastructure, as well as test for WAF bypasses that can result in achieving successful exploitation of the organization's environment.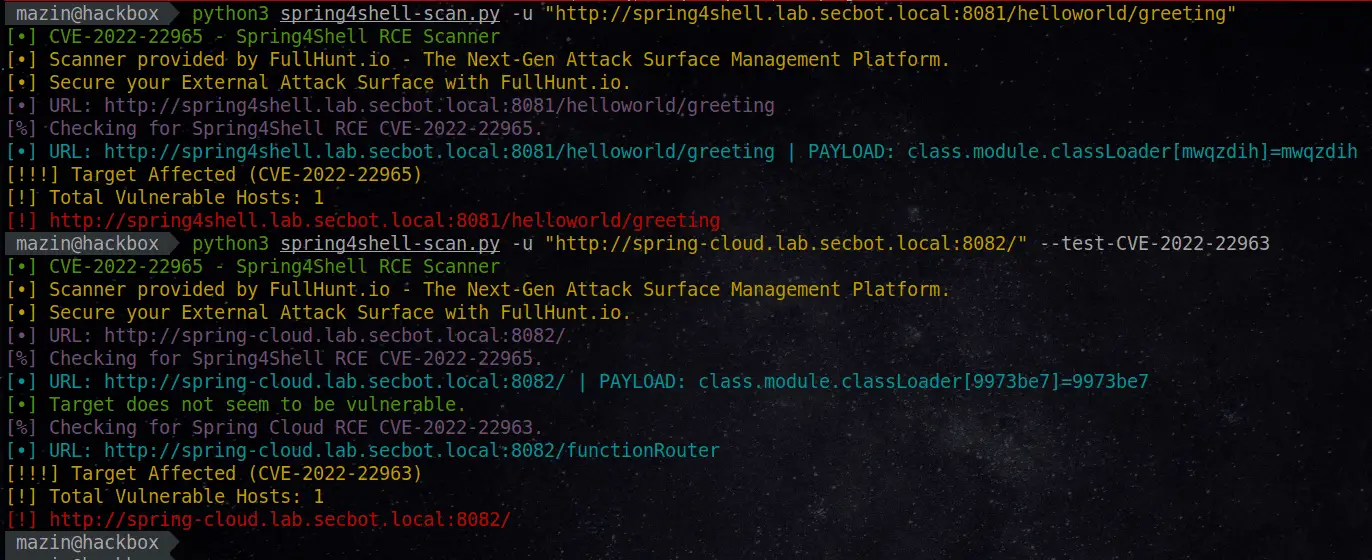 Features
Support for lists of URLs.
Fuzzing for more than 10 new Spring4Shell payloads (previously seen tools uses only 1-2 variants).
Fuzzing for HTTP GET and POST methods.
Automatic validation of the vulnerability upon discovery.
Randomized and non-intrusive payloads.
WAF Bypass payloads.
Install
git clone https://github.com/fullhunt/spring4shell-scan.git
cd spring4shell-scan
pip3 install -r requirements.txt
Use

Scan a Single URL
$ python3 spring4shell-scan.py -u https://spring4shell.lab.secbot.local
Discover WAF bypasses against the environment
$ python3 spring4shell-scan.py -u https://spring4shell.lab.secbot.local --waf-bypass
Scan a list of URLs
$ python3 spring4shell-scan.py -l urls.txt
Include checks for Spring Cloud RCE (CVE-2022-22963)
$ python3 spring4shell-scan.py -l urls.txt --test-CVE-2022-22963
Copyright (C) 2022 Mazin Ahmed
Source: https://github.com/fullhunt/